Company
ALOM is the premier one-stop strategic supply chain partner, delivering the fastest and highest quality services to meet each of our customers' exact needs and goals. We are our customers best-kept secret.
Delivering Supply Chain Success to Leading Global Brands
In a world increasingly challenged by supply chain uncertainties, ALOM pushes the limits of technology innovation and service excellence to produce and ship every order on-time and in perfect condition. We perform flawlessly for our clients who represent leading brands in the automotive, medical, life sciences, technology, and other regulated industries.
Hannah's Vision to Reality
ALOM was founded in June 1997 by Hannah Kain. Hannah's vision for the company has never changed – to bring competitive advantage to customer brands through supply chain operational excellence powered by innovative technology and unsurpassed quality management practices. At ALOM, quality is more than a word — it is the keystone of our corporate culture.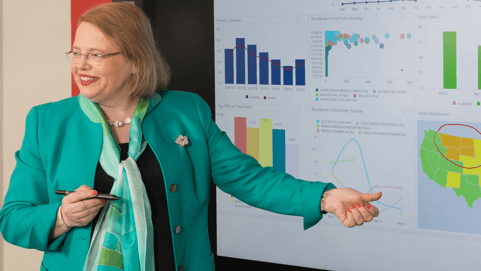 Strategy of Excellence and Innovation
Product Supply Chain and Marketing Operations Services
ALOM excels in the design and implementation of innovative and sustainable supply chain strategies — regardless of scale and complexity — that enable our customers to gain a competitive advantage and increase brand loyalty. We accomplish this by personalizing the relationship between our customer's brand and their end-user.
By taking ownership of a company's supply chain goals, ALOM frees our customers to apply their resources to the crucial work of innovation — and position themselves more competitively in the global marketplace.
ALOM Values and Commitments
Industry and Technology Leadership
Respect for Diversity – Collaboration
Excellence in Quality – Striving to be the Best
Service-orientation and Support
ALOM Facts at a Glance
Founded:
By Hannah Kain in 1997
1 of
ALOM Facts at a Glance
Ownership:
Private – WBENC and CPUC registered as a woman-owned business (WBE)
2 of
ALOM Facts at a Glance
On the list of largest certified U.S. woman-owned companies
3 of
ALOM Facts at a Glance
4 of
ALOM Facts at a Glance
ISO certifications:
ISO 9001, ISO 13485, ISO 14001, TL 9000
5 of
ALOM Facts at a Glance
6 of
ALOM Facts at a Glance
Industries served:
Technology, Automotive, Energy, Financial, Medical, Retail
7 of
ALOM Facts at a Glance
Global Headquarters:
Silicon Valley, Fremont,
California
8 of
ALOM Facts at a Glance
North America locations:
Fremont, CA; Indianapolis, IN; Toronto, ON
9 of
ALOM Facts at a Glance
Fulfillment capacity per facility:
individual order, 10,000/day, same order, 100,000/day
10 of
ALOM Facts at a Glance
U.S fulfillment capacity:
20,000 orders per hour
11 of
ALOM Facts at a Glance
Worldwide print facility footprint:
1 million sq. ft.
12 of
ALOM Facts at a Glance
First eCommerce order portal:
1998 – established ALOM as an eCommerce technology pioneer
13 of
Collaborative Business Model
We believe the most successful customer/supplier relationships are collaborative and results-driven, rather than a contract strictly based on the lowest price.
With our collaborative business model, we are motivated to learn about our customers' product development roadmaps, concerns, and unique challenges so we can improve operational performance and optimize their supply chain for maximum efficiency. Bottom line, we focus on collaboration to reduce costs and pass those savings on to our customers.
ALOM serves industry leading customers representing prestigious brands
Need A Supply Chain Partner?