Sales & Marketing Support
We know the best marketing and brand campaigns are only as effective as the availability and delivery of materials that are on-message and in the right hands at the right time.
Elevate Your Brand & Increase Sales
We enhance our customers' marketing and sales support with our flawless delivery, service and dedication.
Print Management
We specialize in turnkey full-service global print management for quality and cost-conscious companies. Through our in-house print resources and contracted global print network of 200 expert suppliers, we assure strict adherence to brand standards and that all materials will be perfectly printed, delivered on-time and at a cost that typically saves our customers up to 15%. Plus ALOM manages everything.
Our state-of-the-art print services include:
Large format display
Sheet fed and web
Letters, flyers, mailers with envelope insertion
On-demand digital with customization
Specialty print for packaging
Catalogs, maps, labels
Point of Sales Program
One of our favorite programs to plan and support is point-of-sale (POS) material development and delivery. Our experts work with customer marketing teams to identify highly-effective, and creative media or materials to present the brand and influence a sale. Display counters and fixtures, multimedia interaction, demo centers, vehicle and building wraps, customized banners, pallet displays and stand up signage are all included. One time, we delivered live, pre-decorated Christmas trees to retail stores around the world.
To efficiently manage POS programs, we offer customer-branded order entry and delivery tracking portals.
Promotional Items Management
Our customers are proud of their brand, and we want to show it off. From branded merchandise web stores and event-in-a-box display materials to customized gift card and customer appreciation programs, ALOM has the buying power, creativity and technical resources to completely manage and deliver impactful and personalized promotional marketing programs on-time and on-budget around the world.
Mailing Services
Want to deliver a personalized, time-sensitive message directly into the hands of your targeted audience at a significantly lower price point? Put it in the mail. Together with our variable print capabilities, we combine the latest technology and extensive mailing services experience to prepare materials that meet USPS format, addressing, packaging and sorting requirements. Whether it is one item or thousands, our mailing experts have the experience to find the best postage rates and manage the project through every stage.
Literature Fulfillment
From any of our worldwide locations, we provide our customers with superior literature fulfillment services. Whether catalogs, sales kits, marketing materials, posters, or mailings, our meticulous inventory tracking combined with flexible print production and online order portals allow us to tailor a literature fulfillment program to meet each customer's business requirements.
Our advanced order processing and warehouse management systems provide customers with up-to-the-minute shipment and order status with real-time reporting to stay on top of order processing and literature fulfillment activities.
Customized Awards & Certificates
ALOM's in-house digital print centers provide a fully-automated process to produce and deliver individually customized and officially branded/signed certificates of achievement for employees, technicians, customers, professional association members or students. We add further value by managing the entire online order and fulfillment process including delivery tracking and back-end reporting.
Examples of customizable awards and certificates include:
Employee training and recognition of achievement
Technical/occupational achievement certification
Professional development
We Know Product and Marketing Supply Chains
Whether our customers deliver information or products, our supply chain resources and expertise deliver equally impressive results.
Retail exposure often means crunch-time. Our customers must optimize the shelf-time and deliver to retailers within the allotted delivery windows, and this is where our customers benefit from ALOM's speed, flexibility and full traceability. We produce "buy influencing" materials, customized by location and ship to franchise locations in time for seasonal campaigns or new product launches to break.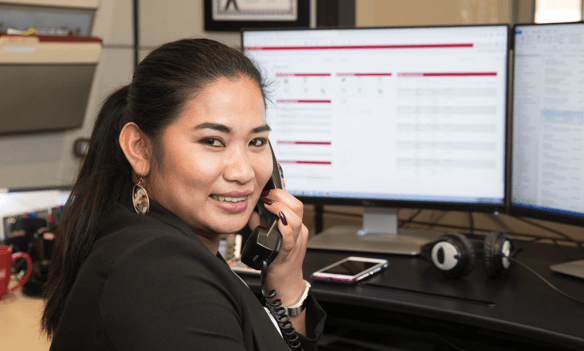 Even the most creative marketing campaign can suffer from poor execution. Our dedicated supply chain pros take full ownership to execute every detail of the campaign for maximum effect, from planning to final impact.
Collaborative Business Model
We believe the most successful customer/supplier relationships are collaborative and results-driven, rather than a contract strictly based on the lowest price.
With our collaborative business model, we are motivated to learn about our customers' product development roadmaps, concerns, and unique challenges so we can improve operational performance and optimize their supply chain for maximum efficiency. Bottom line, we focus on collaboration to reduce costs and pass those savings on to our customers.
ALOM serves industry leading customers representing prestigious brands
Need a Supply Chain Partner?